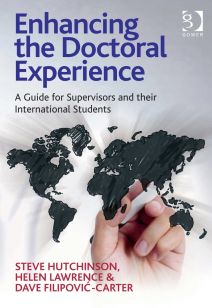 Enhancing the Doctoral Experience: A Guide for Supervisors and their International Students
Dr. Steve Hutchinson, Dr. Helen Lawrence and Dr. Dave Filipović-Carter
Gower
ISBN-13: 978-1-4094-5175-4
One of the major intangible benefits associated with the post-graduate research experience is precisely that: the experience. And more specifically, for an increasing number of international research students: the British doctoral experience. This experience is often largely defined and shaped by their relationship with, and support from, their supervisor.

Against a challenging background of growing numbers of students but also increasing pressures on time and costs, Enhancing the Doctoral Experience offers an approach to improve the effectiveness of the doctoral student and increase the professionalization of research supervision.



An endorsement from Prof. Tom McLeish, PVC Research, Durham University

This is a practical yet scholarly treatment in support of a vital but underrated academic relationship – that of doctoral supervisor and student. Although focussed on the needs of international students, its sage advice and helpful suggestions are more generally applicable. I wish I had been able to access such material when starting off as a new academic; I anticipate transformational effects when put into practice.